Foundation:
Central Indiana Community Foundation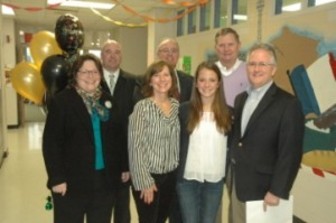 credit: staceypageonline
"When you see someone of a similar race, ethnicity, gender, sexual orientation, or socio-economic status in the workplace, positions of power, or in the halls of academia, you feel empowered," writes Ta-Nehisi Coates in the Atlantic.

"Put simply, you feel as if you matter."

In Indiana, for example, nine historic African-American sites have been awarded $150,000 in grants to preserve their histories, reports the Indianapolis Star.

"We try to talk about not just the tangible history, but there are many sites or places that don't have buildings anymore that are still important to the Black community," says Mark Dollase of Indiana Landmarks, which handed out the grants. "We need to tell those stories."

The nine sites are - African American Historical Society and Museum, Fort Wayne Allen Chapel AME Church, Indianapolis Division Street School, New Albany Indiana LandmarksLyles Station Historic Preservation Corporation, Inc., Gibson CountyRoberts Chapel Homecoming and Burial Association, Inc., Atlanta St.Augustine's Episcopal Church, Gary Stewart Lawn Cemetery, Inc., Central Indiana Community Foundation, Dovie Stewart Cox and Chester A. Cox Sr. Memorial Fund, and the Standiford H. Cox and Chester A.Cox Sr. Read the Entire Article
Selected Grant News Headlines
A customized collection of grant news from foundations and the federal government from around the Web.


Akron Civic Theatre To Host Lunar New Year Celebration Jan. 28
Foundation:
Akron Community Foundation
,
Knight Foundation

If you can't make it to Ohio's Akron on Jan. 28, you can still celebrate the Year of the Rabbit with friends and family at the Akron Civic Theatre. The annual Lunar New Year celebration will
...more
National Endowment for the Arts Announces First Round of Fiscal Year 2023 Grants

The National Endowment for the Arts has released its first round of grants, with more than $34 million in funding going to 1,251 organizations across the country. The grants range from $10,000 to
...more
39 Nonprofits To Receive Cultural Arts Grants For 2023

The Santa Barbara County Office of Arts & Culture has announced the 2023 Cultural Arts Grant award recipients. Through funding from the city of Santa Barbara, Santa Barbara County, Ensemble
...more
8 artists who are grappling with climate change and imagining a better world

"What does a pencil have to say about the future? What does a song, a smell, a coyote, or a lush Haitian garden teach us about how to live in a world in flux?" Thats one of the questions artists Sara
...more